Zapraszam na IT Geeks 2011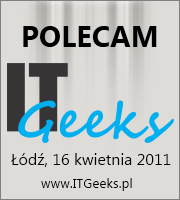 Zapraszam wszystkich na konferecję, którą mam okazję popełnić

IT Geeks to bezpłatna konferencja organizowana całkowicie przez społeczność dla społeczności profesjonalistów IT. Będzie to całodniowe wydarzenie, podczas którego będziecie mieli okazję posłuchać sesji o najnowszych technologiach Microsoft.
Cel: wymiana doświadczeń i integracja społeczności profesjonalistów IT i pasjonatów technologii Microsoft.
Zakres tematyczny: Cloud Computing, Windows Server, Windows Client, System Center, Forefront.
Liczba uczestników: ~140
Termin: 16 kwietnia 2011 (sobota)
Czas: 8:45 – 16:45
Miejsce: Wydział Matematyki i Informatyki Uniwersytetu Łódzkiego, ul. Banacha 22, 90-238 Łódź
Inne: udział bezpłatny!
Szczegóły i rejestracja na www.ITGeeks.pl
5 sesji tematycznych dla IT Pro:
Windows Client – Powrót do przeszłości, czyli VSS w praktyce – Grzegorz Tworek [MVP, MCT]
Forefront – Jacek Światowiak [MVP, MCT]
Cloud Computing – Bezpieczeństwo chmury i danych mojej firmy – Mariusz Kędziora [Microsoft]
System Center – Monitoruj lepiej niż dotychczas – Łukasz Rutkowski [MCT]
Windows Server – Praktyczne podejście do licencjonowania Microsoft – Daniel Stefaniak [MCT]
Szczegóły i rejestracja na www.ITGeeks.pl
Sponsorzy konferencji:
Do zobaczenia!