Firma Microsoft od jakiegoś czasu w każdy swój nowo powstały produkt stara się opakować w komandlety PowerShell. Nie ukrywam, że mnie się ten pomysł podoba. Dlaczego? Bo PowerShell jest power

Nadchodzący Windows 8 jest również dopakowany nowymi cmdletami. Jednym z nich jest Show-Command. Co to takiego, ze poświęcam temu jednemu cmdletowi aż cały post? Otóż jest to cmdlet, który powstał dla osób, które mają bariery w nauce PowerShell i przestawienia się w pełni na niego (to jest moja definicja tego cmdletu). Ok, do rzeczy…
Jak uruchomię ten cmdlet to pokaże się okienko GUI z dostanymi cmdletami w systemie. Mogę dzięki temu przejrzeć sobie listę i wyszukać coś czego potencjalnie mogę użyć. Łatwo można się domyślić czego się oczekuję, ze względu na budowę cmdletów PowerShell: Czasownik-Rzeczownik.
Show-Command
Zakładając, że wiem jaki cmdlet potrzebuję to mogę połączyć Show-Command z moim cmdletem (np. Get-VM). Wtedy zostanie wyświetlone okienko GUI z parametrami mojego cmdletu.
Show-Command Get-VM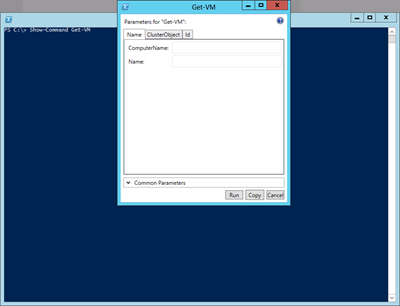 Teraz po wypełnieniu potrzebnych dla mnie pól z parametrami mogę zrobić dwie operacje. Jedną z nich jest Copy. Wtedy zostanie skopiowana do schowka składnia wybranego cmdletu wraz z parametrami.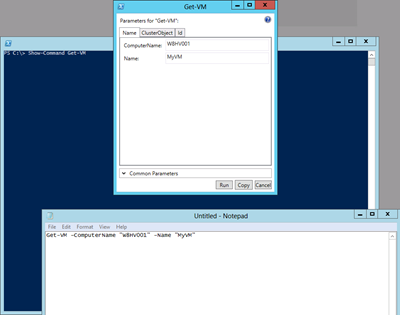 Drugą opcją jest Run. Po wybraniu tej opcji, cmdlet zostanie bezpośrednio przekazany cmdlet do powłoki PowerShell i wykonany.

Małym minusem wg mnie jest to, że mógł by się on najpierw pokazać w postaci "pisanej", a nie zwracać tylko wynik – ale to już takie moje czepianie się lekko na siłę

Miłej zabawy z Show-Command. Mnie się podoba