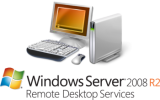 RemoteFX jest technologią przekazywania wzbogaconych efektów graficznych przez sesję terminalową działająca w oparciu o Remote Desktop Services, a generowaną po stronie serwer przez fizyczny układ graficzny.
Jeżeli chcemy się z tą technologią zaprzyjaźnić to Microsoft nam to ułatwił przez wydanie serii dokumentów technicznych z konfiguracją RemoteFX.
Dodatkowo podstawowe informacje o RemoteFX możemy znaleźć na plakacie z architekturą Hyper-V R2 Service Pack 1.