Orca bez instalacji Windows SDK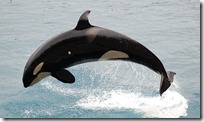 We wpisie o edycji paczki MSI z instalacją System Center Cappacity Planer 2007, pisałem o użyciu programu Orca. Wspomniałem również, że Orca jest darmowym narzędziem wchodzącym w skład Windows SDK. Aby uzyskać to narzędzie trzeba zainstalować Windows SDK. Dla mnie nie jest to wygodne rozwiązanie, szczególnie kiedy interesuje mnie tylko Orca, bez innych zbędnych rzeczy wchodzących w skład Windows SDK – po co zaśmiecać sobie system? Pomijam również niedogodność związaną z pobraniem Windows SDK (~1,5 GB) dla narzędzia, które zajmuje ~2 MB 😉 Można oczywiście użyć instalatora Windows SDK OnLine, ale i tak wiąże się to ze ściąganiem sporej ilości MB i zaśmiecaniem systemu zbędnymi rzeczami. Rozwiązanie wydobycia instalatora Orca przedstawiam poniżej 🙂 Poniższy przykład jest w oparciu o Windows SDK w wersji x64. Ścieżki oraz nazwy plików zapewne różnią się w wersjach x86 oraz Itanium (nie pobierałem tych wersji), natomiast schemat działania i uzyskania instalatora Orca powinien być ten sam.
Mając pobrane najnowsze Windows SDK (wersja dla Windows 7) w wersji ISO, należy zamontować (np. przy użyciu MagicDisc) / rozpakować / nagrać na DVD (* niepotrzebne skreślić) obraz.
Kolejnym krokiem jest utworzenie tymczasowego katalogu roboczego gdzieś na dysku twardym np. D:Orca.
Uruchamiamy linię poleceń (Start –> cmd.exe –> Enter) i przechodzimy we wskazaną ścieżkę Y:SetupWinSDKTools_amd64, gdzie Y: jest napędem montowania obrazu. W tym katalogu znajdują sie trzy pliki: cab1.cab, cab2.cab oraz WinSDKTools_amd64.msi, nas interesuje cab1.cab.
W pliku cab1.cab znajduje się plik z instalatorem programu Orca. W celu wydostania owego pliku wpisujemy w linii poleceń expand cab1.cab -F:*Orca* D:Orca. W rezultacie wypakujemy plik bez rozszerzenia z mało przyjemną nazwą WinSDK_Orca_Msi_5E20C107_DAA3_4D49_AFAE_7FB2594F0CDC_amd64.
Ostatnim krokiem uzyskania ładnej paczki MSI z edytorem Orca jest zmiana nazwy tego pliku na Orca.Msi już w Windows Explorer lub za ciosem z linii poleceń ren WinSDK_Orca_Msi_5E20C107_DAA3_4D49_AFAE_7FB2594F0CDC_amd64 Orca.Msi. W efekcie otrzymujemy gotowy instalator MSI z programem Orca.
Poniżej screen ilustrujący powyższy opis.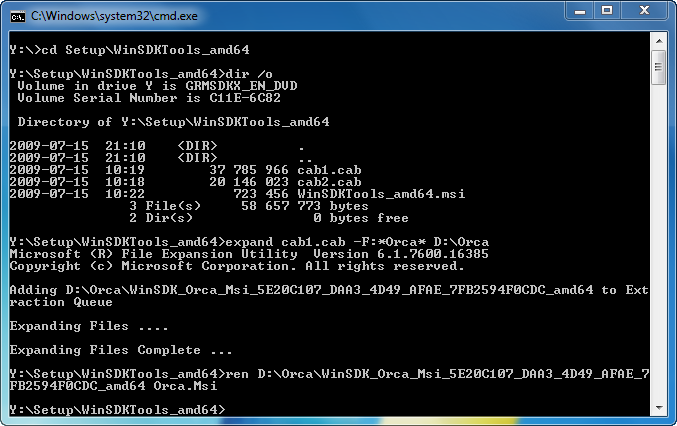 Powyższy opis odwołuje się akurat do programu Orca. Przy pomocy tego samego schematu działania można wypakować inne interesujące narzędzia z plików CAB w ramach Windows SDK. Zachęcam również do zabawy z poleceniem expand przy dłubaniu w plikach CAB lub MSU (Microsoft Update Standalone Package) 🙂
Zdjęcie skaczącej orki autorstwa Mlewan pochodzi ze strony Wikimedia Commons.