Instalacja System Center Capacity Planner 2007 na Windows 7

Dziś miałem potrzebę użycia całkiem zgrabnego i darmowego (poprzednia wersja 2006 była dostępna tylko dla subskrybentów TechNet oraz MSDN) narzędzia jakim jest System Center Capacity Planner 2007. Niestety, podczas próby instalacji tego narzędzia w systemie Windows 7, otrzymałem komunikat, że w nie ma .NET Framework 2.0 w wersji RTM 👿 Oczywiście .NET Framework 2.0 w najnowszych systemach Windows 7 oraz Windows Server 2008 R2 jest już wbudowany w system, lecz w nowszej kompilacji. Poniżej screen owego komunikatu.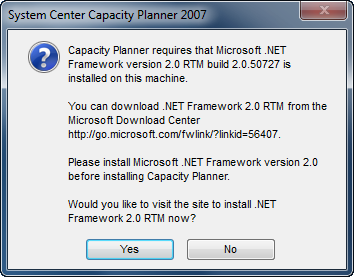 Nie zastanawiając się za bardzo, zacząłem Bingować oraz Googlować problem – nie lubię wyważać otwartych drzwi. Niestety, to co znalazłem zupełnie nie dotyczyło platformy .NET tylko np. wersji systemu lub komponentu MDAC. Za to ukierunkowało mnie na grzebaniu w paczce MSI. Dzięki użyciu narzędzia do zmiany atrybutów paczki MSI, udało mi się zdjąć warunek sprawdzania zainstalowanej wersji platformy .NET. Poniżej opis jak tego dokonać.
W pierwszej kolejności musimy zaopatrzyć się w narzędzie do edycji paczek MSI. Najbardziej znanym, darmowym i lubianym przeze mnie jest Orca. Minusem tego zaledwie ~2 MB narzędzia jest to, że jest składnikiem Windows SDK, który już waży prawie ~1,5 GB. Jeżeli, ktoś już ma u siebie lokalnie ściągnięte Windows SDK lub instalację programu Orca to problem pobierania go nie dotyczy. Jeśli jednak nie mamy takiego narzędzia lokalnie i nie mamy ochoty pobierać ~1,5 GB dla ~2 MB narzędzia to istnieje alternatywny edytor, również darmowy, całkiem przyzwoity i ważący ~5,5 MB jakim jest InstEd. InstEd wygląda i działa identycznie jak Orca.
Jak już będziemy mięli zainstalowany edytor MSI to otwieramy w nim pakiet instalacyjny SCCP 2007. W lewej części edytora znajduje się spis tabel, gdzie namierzamy pozycję _VsdLaunchCondition. Po wybraniu jej, w prawej części edytora zobaczymy dwie pozycje sprawdzania warunków uruchomienia paczki. Jedna dotyczy właśnie platformy .NET, a druga komponentu MDAC.
Zaznaczamy pozycję dotyczącą platformy .NET tj. CanonicalizedMsiNetAssemblySupport>=VSDSupportedRuntimesMin AND CanonicalizedMsiNetAssemblySupport<VSDSupportedRuntimesMax i usuwamy wiersz warunku.
Zapisujemy paczkę MSI.
Odpalamy instalację, która nie sprawdza już platformy .NET i umożliwia dalsze zainstalowanie narzędzia SCCP 2007. Działanie programu po instalacji jest już jak najbardziej prawidłowe.
Poniżej ilustracja obrazująca powyższy opis.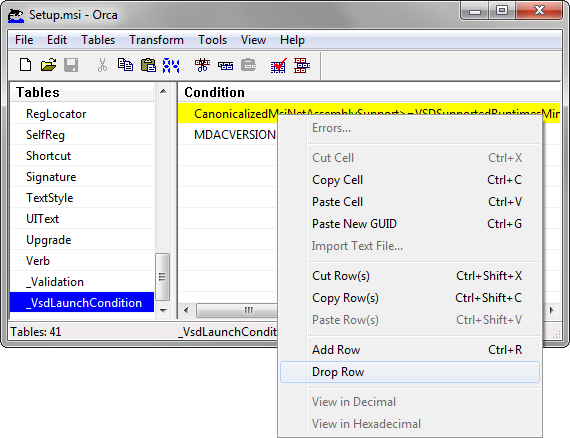 Na marginesie dodam, że System Center Capacity Planner 2007 umożliwia planowanie tylko dla Exchange Server 2007. Są jednak dwa dodatki rozszerzające możliwości narzędzia o planowanie dla Office SharePoint Server 2007 / SharePoint Services 3.0 oraz System Center Operation Manager 2007. Paczki tych dodatków instalują się poprawnie i nie trzeba ich edytować.