Darmowy eBook – Twoja kariera wg Microsoft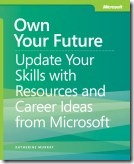 Przeglądając dziś śmiecionet, natrafiłem na darmowy eBook zatytułowany "Own Your Future: Update Your Skills with Resources and Career Ideas from Microsoft". Ten eBook zawiera osiem rozdziałów i dodatki opisujące, w jaki sposób można ocenić i budować swoje technologiczne umiejętności w kontekście pracy zawodowej. Na razie na szybko przejrzałem tą publikację i wydaje się być dość ciekawa.
W książce zostały poruszone takie tematy jak np. planowanie kariery, na co zwrócić uwagę, jak się uczyć, czego używać aby ułatwić sobie życie, skąd brać materiały itp. Tematy niby banalne, ale ważne – szczególnie, że zwracają uwagę na aspekty, o których często osoby techniczne zapominają lub w mniejszym lub większym stopniu nie mogą sobie z nimi nieświadomie poradzić. Osobiście też mam czasem z tymi "banałami" problem, ale staram się nad tym cały czas pracować 🙂 To jest nieskończony proces wg mnie, nie zadanie od A do Z 😉
Książka dostępna do pobrania w dwóch formatach: XPS oraz PDF.