Darmowe zasoby dla profesjonalistów IT, które pomogą Ci rozwinąć karierę z technologiami chmurowymi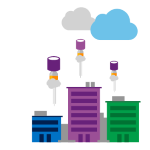 Technologie chmurowe wymuszają zmianę podejścia do wykonywania codziennej pracy. Utrzymanie aktualnych umiejętności i podążanie za trendami jest ważniejsze niż kiedykolwiek. Microsoft wprowadza dwa nowe darmowe programy dla profesjonalistów IT, którzy chcą budować i rozwijać swoją karierę w świecie chmury.
Microsoft IT Pro Cloud Essentials
To BEZPŁATNA roczna subskrypcja obejmująca usługi chmurowe, szkolenia i wsparcie.
Usługi chmurowe: Kredyty Azure, 90-dniowy okres próbny, Enterprise Mobility Suite, 60-dniowy okres próbny Office 365
Szkolenia: 3 miesięczna subskrypcja Pluralsight, voucher na egzaminy certyfikacyjne
Wsparcie: priorytetowe wsparcie na forach TechNet, telefoniczne wsparcie techniczne dla usług Azure oraz on-premises
Sprawdz: Microsoft IT Pro Cloud Essentials
Microsoft IT Pro Career Center
To DARMOWE zasoby online do zaadresowania swoje ścieżki kariery w technologiach chmurowych, program nauczania ról związanych z chmurą oraz doradztwo zawodowe.
Ścieżka kariery: zobacz jaką rolę chmurową sugerują Tobie eksperci
Kursy dla roli chmurowej: program nauczania dla wybranej roli
Przemysłowe trendy kariery: dowiedź się od ekspertów jakie umiejętności potrzebujesz aby osiągnąć sukces
Sprawdz: Microsoft IT Pro Career Center
Zarejestruj się raz i zacznij używać obu programów! 🙂 Dołącz teraz!
Zobacz prezentację Microsoft IT Pro Chmura Essentials na poniższym nagraniu.