Darmowa książka ze skrótami klawiszowymi do Windows 7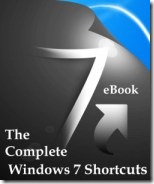 Windows 7 jest wręcz najeżony wszelkiej maści skrótami klawiszowymi, które wręcz uwielbiam. Niestety nie znam ich wszystkich lub zdarza mi się czasem zapomnieć o jakimś. Bynajmniej nie mam zamiaru uczyć się wszystkich, ale znajomość tych bardziej używanych funkcji i ich skrótów przeze mnie zapewne będzie przyspieszało mi pracę.
Z pomocą w poznaniu skrótów klawiszowych Windows 7 przyszedł The Windows Club, wydając 43 stronnicową publikację zawierającą ponad 200 skrótów klawiszowych występujących w Windows 7 – The Complete Windows 7 Shortcuts.
Właśnie takiej publikacji bardzo mi brakowało 😀