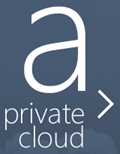 W Polsce czasami zdarzają się fajne inicjatywy. Tym razem też się zdarzyła i nazywa się Akademia PrivateCloud. Do tego jak na dwa dni praktycznych warsztatów jest wyjątkowo tania: 150zł netto od osoby (w tym obiadek

). Co to jest ta Akademia?
Akademia PrivateCloud to cykl warsztatów, podczas których w praktyce
można poznać tajniki projektowania i wdrażania środowisk PrivateCloud
w oparciu o technologie Microsoft.
Podczas tych warsztatów dowiesz się, jak pójść o krok dalej i zbudować wysoko dostępne i elastyczne środowisko PrivateCloud w swojej organizacji. To warsztaty praktyczne dla tych, którzy chcą poznać narzędzia umożliwiające zbudowanie od podstaw środowiska PrivateCloud oraz nauczyć się, jak wykorzystać nieograniczone możliwości chmur w swojej organizacji.
Podczas warsztatów zostaną przeprowadzone laboratoria, w których zostanie przeprowadzona konfiguracja środowiska:
Hyper-V
System Center Virtual Machine Manager (SCVMM)
System Center Virtual Machine Manager Self-Service Portal 2.0 (VMMSSP)
System Center Operations Manager (SCOM)
System Center Orchestrator (Opalis)
Myślę, że jest to idealny sposób poznania wirtualizacji od Microsoft i narzędzi dla niej, szczególnie dla osób, które nigdy nie miały z nią do czynienia lub miały ale w bardzo podstawowym zakresie.
Więcej informacji, zapisy, terminy oraz ośrodki, które będą prowadziły warsztaty można znaleźć na stronie: Akademia PrivateCloud.